---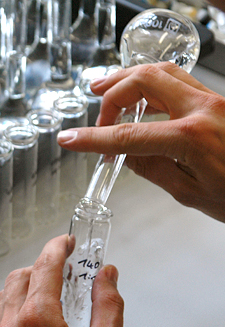 ---
---
Contact
Kerstin Baranowski
Karin Klaube
phone: 0345 5525601
phone: 0345 5525600
fax: 0345 5527223
kerstin.baranowski@natfak2....
room 1.43.0 / 1.42.0
Von-Danckelmann-Platz 3
06120 Halle
Dr. Kerstin Brennecke
phone: 0345 55-25602
fax: 0345 55-27223
kerstin.brennecke@natfak2.u...
room 1.44
Von-Danckelmann-Platz 3
06120 Halle
---
---
Login for editors
---
Information for prospective students
We offer exciting course programs and optimal learning and studying conditions. Already on the Bachelor level, students get involved in high-level research performed at the different institutes Different Master programs are set up to provide a full education in science, paving the path for excellent career opportunities, including PhD studies at the different local research institutions.
Introductions for the first semester
Offered Study Courses
Teaching in our Bachelor programs is mostly in German, requiring profound German language skills. However, at the Master level and beyond, many courses are given in English. At the PhD level, it is generally possible to join us with no German skills, although it is of course highly desirable that German language courses are taken.
Furthermore, we offer a full English-speaking Master program in Polymer Materials Science, requiring no German language skills a priori. For more information, click the link on the left.
Admission
Deadlines
Study deanery / Examination office
Nutzen Sie bitte auch die angebotenen Informationsveranstaltungen der Universität wie den Hochschulinformationstag im Frühjahr und die Lange Nacht der Wissenschaften im Juli eines jeden Jahres. An beiden Veranstaltungen ist die Fakultät mit einer breiten Palette interessanter und informativer Beiträge beteiligt.
---
---