Aktuelles
Di, 07.12.2021
17:15 Uhr im Hörsaal 1.26 Von-Seckendorff-Platz 1, 06120 Halle
Prof. Ann-Christin Pöppler
Institute of Org. Chemistry, University of Würzburg
"Taking up the chase with NMR Spectroscopy - From structural insights into solid drug-polymer formulations to their fate in biorelevant media."
Abstract:
Despite the large number of publications related to drug delivery, recent (critical) comments identified a gap between academic research and benefit to the patient requiring multidisciplinary joint efforts. Through solid-state NMR spectroscopy complemented by quantum chemical calculations, insight into the conformation of guests within copolymer micelles and key intermolecular interactions can be gained. This information enables to hypothesize loading mechanisms, explain pharmaceutically relevant dissolution rates, and derive ideas for improved polymeric carrier materials. [...]
Details
Pöppler_07122021.pdf (494,7 KB) vom 08.11.2021
7th SFB retreat in Bad Schandau (September 2021)
Members of the SFB/TRR 102 met for the 7th retreat in Bad Schandau from September 13-15, 2021. Young researchers from the SFB presented their new scientific results and our invited speaker Ulrich Schubert (University of Jena) talked about supramolecular interactions in polymers. During the presentations in the evening, we learned and discussed about circular plastics (Rupert Schnell, Evonik) and gender in physics (Tomas Brage, Lund University). There was also time for informal exchange during our hiking tours.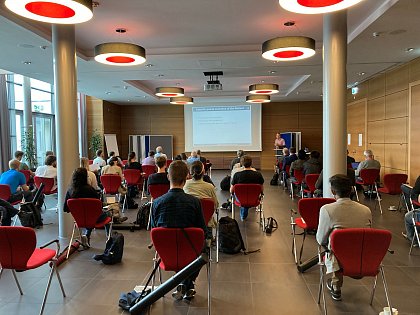 September 2021: SFB retreat in Bad Schandau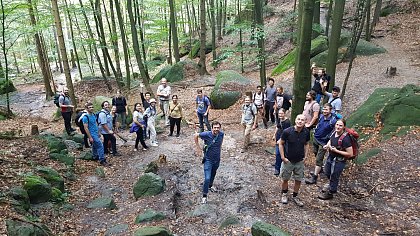 September 2021: Hiking tour during the 7th retreat
American undergrad student visits Halle for a summer internship

Aaron Miller, from Seattle, was an intern in the polymer physics group in Halle (Saale) from July – September 2021. He is a physics undergraduate student from the University of Washington (Seattle, USA) and he was awarded the RISE (Research Internships in Science and Engineering) internship program from the DAAD. Aaron decided to join the project offered from Yu Qiang (group of Prof. T. Thurn-Albrecht) and fortunately, the travel restrictions were removed shortly before the internship. During his 3 month-stay, Aaron worked with Yu on the crystallization of polyesters with different experimental techniques, as well as collaborated with other groups and presented his results. He also used his time in Germany to improve his German language skill and to travel and make connections across Germany. Aaron is now completing his B. Sc. in physics back in Seattle while performing neuroscience research, and he hopes to return to Germany in the future for research or potentially graduate study.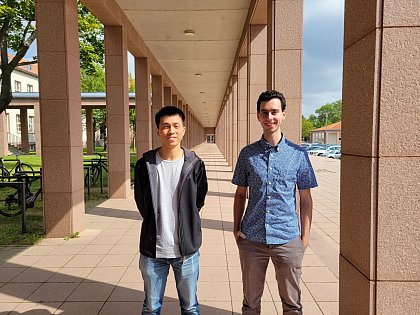 Yu Qiang and Aaron Miller at the campus von-Danckelmann-Platz (September 2021).
Past News
---
---