---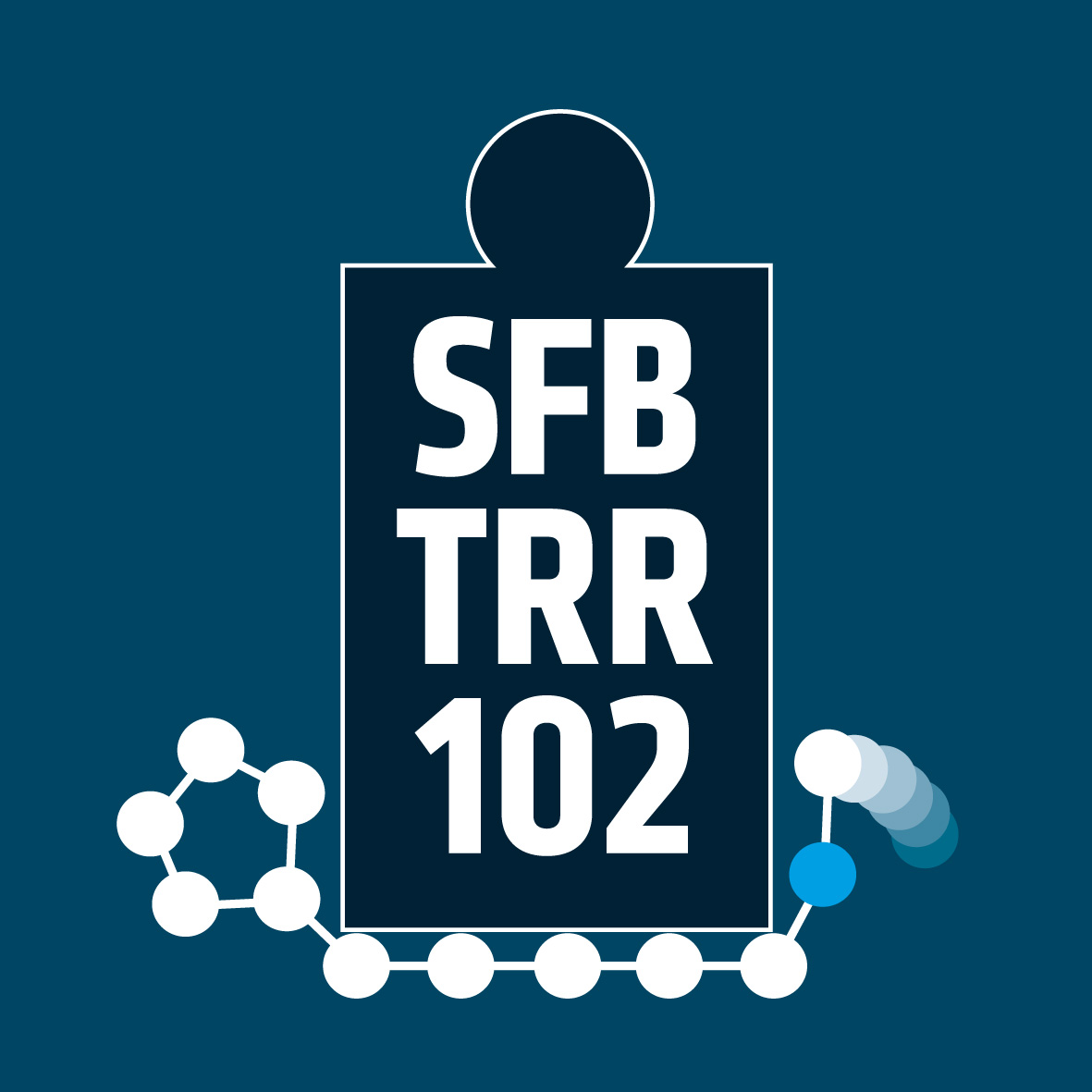 ---
---
---
Contact
MLU Halle-Wittenberg
Naturwissenschaftliche Fakultät II
Institut für Physik
SFB/TTR 102
Geschäftsstelle
phone: +49 (0) 345 55 25825
fax: +49 (0) 345 55 27160
SFB-TRR-102-office@physik.u...
Von-Danckelmann-Platz 4
Raum 2.09
06120 Halle
postal address:
MLU Halle-Wittenberg
Nat.Fak. II Institut für Physik
Geschäftsstelle SFB/TRR 102
06099 Halle
Individuelle Kontakte:
"Kontakt" auf der linken Seite!
For individually contacts:
navigation bar on the left!
---
---
Login for editors
---
SFB-Transregio 102
Polymers under multiple constraints: restricted and controlled molecular order and mobility
---
The SFB 102 is a long-term Transregional Collaborative Research Centre working on basic research.
Martin Luther University Halle-Wittenberg, as the coordinating University has applied together with the University of Leipzig for support of this research project. Both Universities are working close together to take advantage of this unique opportunity.
The SFB / TRR 102 is funded by the DFG.
1. Term funded: 01.07.2011 - 30.06.2015
2. Term funded: 01.07.2015 - 30.06.2019
3. Term funded: 01.07.2019 - 30.06.2023
Recent Scientific Highlights
Independent Variation of Transition Temperature and Prefrozen Layer Thickness at the Prefreezing Transition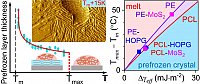 It is well-known that crystallization of liquids typically starts at the interface to a foreign solid surface. In general, interface-induce crystallization can take place either via heterogeneous nucleation or via prefreezing. Of special interest is the latter phenomenon, which refers to the abrupt formation of a mesoscopic and thermodynamically stable crystalline layer at the solid interface above the melting temperature of the material. Over the past few years, we carried out systematic investigations of prefreezing in a series of various polymer-substrate systems using direct in situ AFM and also proposed a phenomenological theory of prefreezing. In the current research work, we further extended our study of prefreezing to a new polymer-substrate system, poly(ε-caprolactone) (PCL) on a molybdenum disulfide (MoS2) substrate and compare the results with those of our previous studies of PCL prefrozen on graphite as well as polyethylene prefrozen on the same two substrates. In particular, we demonstrate that the transition temperature and minimum thickness of the prefrozen layer at the prefreezing transition can vary independently. Moreover, we also show that our diverse experimental findings on prefreezing of all four investigated systems can be consistently explained by the phenomenological theory. Our article provides the state of the art on the topic and unveils the exact role that the interfacial free energies play in controlling prefreezing at the melt-solid interface. It is worth mentioning that our results are not limited to polymer crystallization only but also valid for crystallization of other liquids on solid surfaces.
Chirality Control of Screw-Sense in Aib-Polymers: Synthesis and Helicity of Amino Acid Functionalized Polymers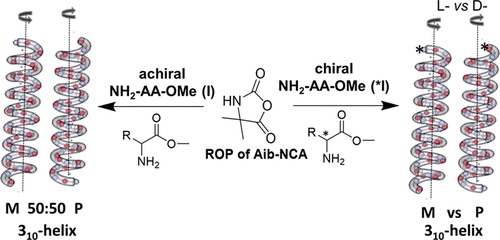 2-Aminoisobutyric acid (Aib) is an essential amino acid, leading to the formation of peptAibols as microbiologically active peptides and proteins. The formation of helices is crucial for their function, also mediating folding of proteins when present as several crowded units within a longer peptide-stretch. Here, we report on the preparation of disctinct Aib-polymers with ring-opening polymerization. We systematically investigated the helical screw–sense of the Aib-polymers and induced either left- or right-handed screw senses by adding chiral amino acids. Moreover, we were able to switch the chirality of the polymer with light-induced triggers. The here shown transfer of chirality over large distances is exemplary for cooperative behavior in biologically active peptides and proteins, wherein Aib is a functional constituent. The so formed transient helices are highly dynamic, representing an important model system for protein folding and protein aggregation.
Thermophoretic trap for single amyloid fibril and protein aggregation studies
A major difficulty in the investigation of protein aggregation and other macromolecular nucleation and growth processes is the heterogeneity of the ensemble studied, which prevents the direct identification of the contributing processes. Using a sophisticated technique of thermophoretic trapping, we provide a method that eliminates this difficulty by confining individual amyloid fibrils in liquids without any surface attachment. With the help of this technique, we are able to follow the growth process of protein fibrils over time periods of hours allowing the observation of rare events like fibril fracture.
---
⇐ Please use the navigation menu on the left!
---
the short cut to our website:
http://www.natfak2.uni-halle.de/sfbtrr102
---
---