News
SynBioPoly22: Polymer Physics Summer School in Halle and Leipzig (August 27 - September 2, 2022)
From August 27 to September 2, 2022 the Polymer Physics Summer School "SynBioPoly22" took place in Halle (Saale) and Leipzig. The summer school was aimed at introducing the basic concepts regarding the physical basics of macromoleclar systems, structure formation of synthetic as well as biological polymers and to introduce experimental techniques and simulation methods along with promoting cultural exchange amongst a diverse group of 40 future polymer scientists.
Besides the scientific part, we offered a rich social program. The scientific part consisted of 17 lectures, 2 lab courses (from a total of 12 different available lab courses) and a poster session. The social part included a varied range of activities like Stand Up Paddling and a wine tasting in Freyburg.

The summer school was a resounding success with more applications than available places and a very good networking between the participants, who continue to be in contact with each other via social media.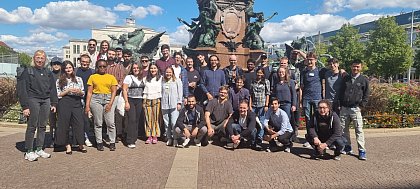 SynBioPoly22: Polymer Physics Summer School
Annual alumni meeting (September 10, 2022)
On September 10, 2022, the annual meeting between former and current members of the Research Training Group took place at the Moritzkunstcafť Halle. The meeting aims at the establishment of links and to foster the exchange between former and current iRTG members.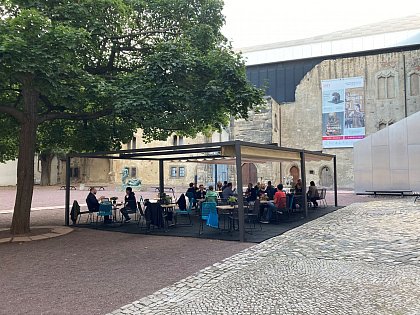 Alumni meeting 2022
Parent and child office at Heidecampus
The SFB/TRR 102 coordinated and co-funded the creation of a parent-child office at the Heide campus. We are pleased to announce that this room is now available!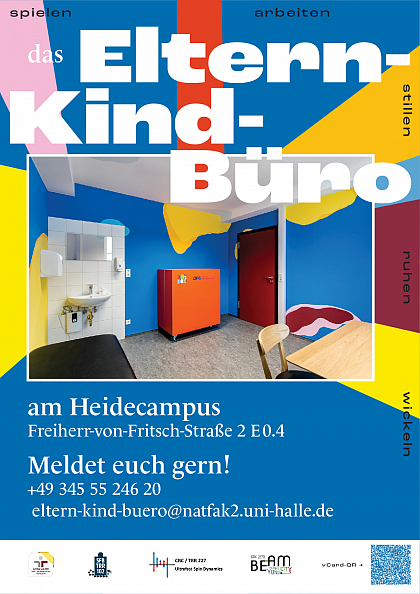 The parent-child office at the Heidecampus serves as a quiet room for pregnant women, is available for nursing mothers, offers diaper-changing facilities and can be used as an office by young parents together with their children. A sink is available, the kitchen in the building may be used and there are materials for children from 0 to 12 years.
For more information, locking privileges, etc. just contact eltern-kind-buero@natfak2.uni-halle.de!
Past News
---
---